Intervention zone and methods
MEDISAFE is a project designed to combat falsified medicines in 11 countries in Eastern and Central Africa: Burundi, Democratic Republic of the Congo, Ethiopia, Ghana, Kenya, Malawi, Rwanda, Seychelles, Tanzania, Uganda and Zambia. It was established by the European Union through the Chemical Biological Radiological and Nuclear Risk Mitigation Centres of Excellence (or EU CBRN CoE) Initiative. The participating countries are all members of the Eastern and Central Africa region covered by the Centres of Excellence Initiative.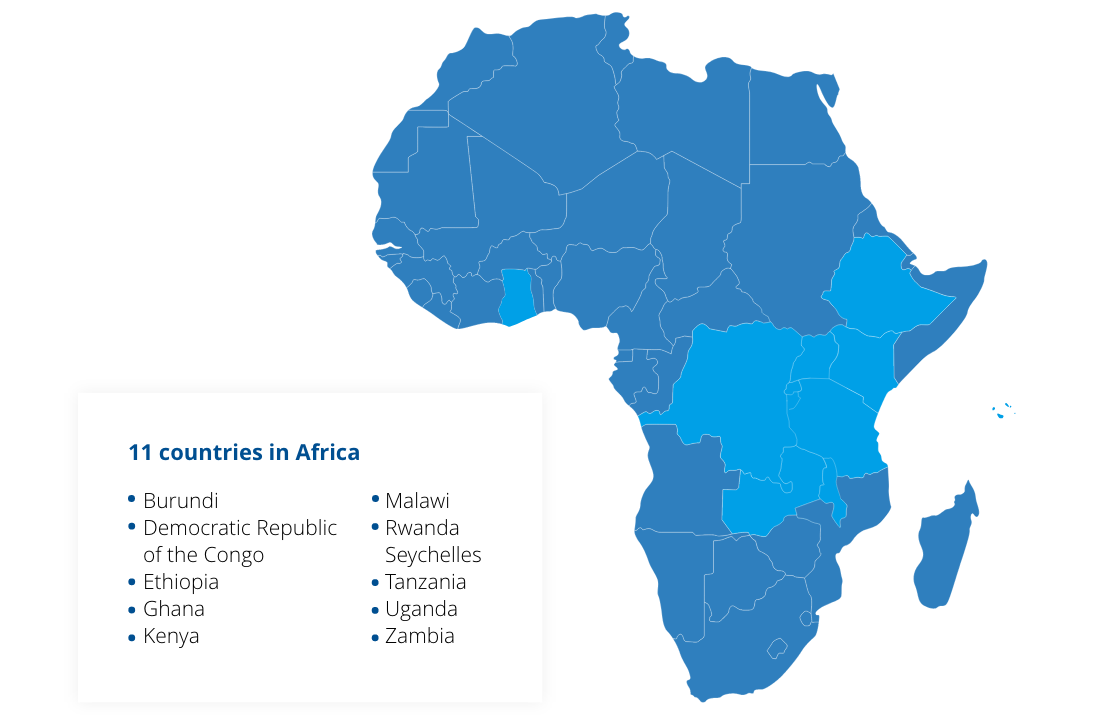 The European Commission chose Expertise France to implement the project at the head of a consortium of 5 partners: APRO-PHISP (Professional Association of Public Health Pharmacy Inspectors), ASST Fatebenefratelli Sacco (Italian public governmental health-care institution), CHMP (Humanitarian Center of Pharmacy Professionals), CIOPF (International Conference of the Order of Francophone Pharmacists) and ReMed (Medicines and Development Network).
The advisory board includes the WHO, the OCLAESP (French Central Office for the Fight against Environmental and Public Health Crimes) and the Netherlands national institute of public health and the environment (RIVM).
The consortium's strategy is to respond holistically to the issue based on WHO recommendations, capitalizing on projects which are already established in the region, particularly under the umbrella of the CBRN Centres of Excellence, whose objectives include supporting the fight against the production and trafficking of falsified medicines.
The countries of Eastern and Central Africa are keenly aware of the problem. The East African Community (EAC) and some partners have developed activities in response to this concern both at a national level and in collaboration with international organisations, notably Interpol. An example of this is Operation Mamba, which led to the signing of the Zanzibar Declaration in 2010. The African Union (AU) is working to create an African Medicines Agency (AMA) which will contribute towards a favourable environment for the development of the pharmaceutical industry and will lead to better coordination between the different partners and stakeholders taking measures to strengthen and harmonize pharmaceutical regulation on the continent. The AMA will build on already existing structures such as African Medicines Regulatory Harmonization (AMRH). Penal initiatives are already in progress, such as the development of model legislation, supported by NEPAD (the development agency of the African Union).
The CBRN Centres of Excellence
The CBRN Centres of Excellence are designed to foster cooperation and coordination between all levels of government and international partners in order to combat CBRN risks, whether criminal, accidental or natural. This initiative offers a complete and coherent approach covering the prevention of CBRN risks – preparation, response and rehabilitation – including legal, regulatory, police, organizational and technical aspects. It is led, financed and operated by the European Commission in close cooperation with the European External Action Service (EEAS), with the support of the UN (UNICRI), the Commission's Joint Research Centre and other international organisations and local experts.

This site uses cookies to improve your user experience and to achieve audience statistics.