The MEDISAFE project steering committee and meeting of partner country national focal points took place from 22-24 November 2022 in Paris, with key project stakeholders in attendance. Discussions focused in particular on activities implemented as part of the project and the outlook for 2023. 
The steering committee is the MEDISAFE project's governance body, which sets the strategic direction and vision for successful project implementation. It is composed of senior representatives from the main stakeholders involved in the project. The steering committee met  to oversee implementation of the project, provide policy-based, technical, regulatory and legal support and advice, monitor actions taken as a result of decisions and recommendations, and approve the workplan for the following year.
This year, the meeting brought together representatives from the European Union Centers of Excellence CBRN[1] (ENCO) Risk Mitigation Initiative, members of the international consortium (APROPHISP, CHMP, ReMED and Sacco), representatives of key agencies such as WHO, UNICRI, Interpol and the Council of Europe, an implementing partner of the European Union, and national focal points from eight project partner countries: Burundi, Ethiopia, Ghana, Kenya, DRC, Seychelles, Tanzania and Zambia. The Expertise France project team and technical experts hosted the event over three days.
The steering committee meeting enabled national focal points to share their experiences on implementing the MEDISAFE project, the successes and areas for improvement to be integrated in 2023. Participants also had the opportunity to watch a video produced as part of MEDISAFE presenting the project objectives and areas of work (see below).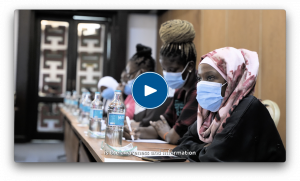 During the national focal points meeting, project experts presented the MEDISAFE guide on supply chain security, the standard operating procedures for law enforcement, the communications strategy and the development of a reference manual on legislation on substandard and falsified medicines.
Finally, given the significant impact MEDISAFE has achieved in the partner countries and the interest it has generated from international partners, Expertise France has confirmed its keen interest for a Phase 2 of the project during the meeting subject to the approval of the European Union.
[1] CBRN risks: chemical, biological, radiological and nuclear risks.